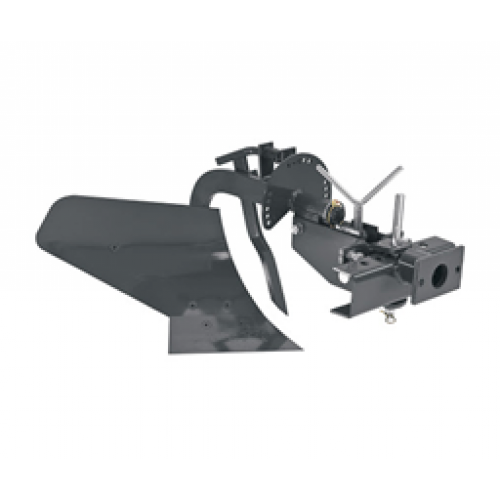 The plough is the specific attachment for turning over and fragment the soil for the subsequent processing or directly for sowing. Turning the soil also are buried weeds and previous crops, speeding their decomposition. Available in single-plough or 180° swivel plough version. The single-plough consists of a plough share whose function is to cut into soil. Its helical mouldboard design generates the groove by sliding the ground sideways. Positioned perpendicular to the ground, a coulter is mounted in front of the ploughshare-moldboard group, allowing it cut into the soil itself. The 180° swivel plough consists of two
ploughshares positioned one above the other and opposite by 180° on the same rudder. The two ploughshares work alternately: when one is working the other is raised relative to the ground surface. The 180° swivel plough allows the turning of the soil to the right or to the left relative to the direction of advancement. To change the direction of turning, at the end of the field make a 180° rotation of the plough. To perform a deep ploughing, it is recommended to set up the two-wheel tractor with wheels 6.5/80-12 and relative weights.
NOTE: Please note that as the material is heavy, couriers will not accept the material so this material will be sent by transport and the transportation cost will be paid by the buyer.
1 MB PLOUGH FOR MC 740 Online