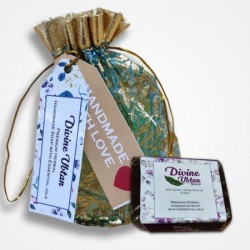 Natural Divine Ubtan Soaps :100% Handmade , 100% Natural Ingredients.
From Ancient ages Ubtan is being used as natural skin cleanser , These vedic benefits we have packed in our Divine natural handmade ubtan soap .
With natural ingredients and pure essential oils like peppermint, lavender, saffron, rosemary, sandalwood, cinnamon and many more, Divine Natural soaps are a complete blend of elegance and aroma. Natural essential oils in our soaps not only uplift the senses but also promote skin health by regenerating, energizing and moisturizing the skin.
These all natural handmade soaps are not only suited for everyday use but can be an ideal gift for your family members and buddies.
Divine Natural Handmade Soaps are packed with essential oils that work wonders on your skin due to their soothing and moisturising properties. The fragrance of these soaps will uplift your mood and set the tone for the day
Features:
Provides complete nourishment to the skin
Soothes and Moisturizes the skin
Contains remarkable cleansing qualities
Relaxes and improves the skin
Laden with healthy, nourishing goodness
Things we do not use in our Soaps :
Our Handmade soaps does not contains Silicones, Parabens,Sulphates / SLS / SLES, Petroleum,DEA. Phthalates, Phenoxyethanol, Synthetic Fragrance
Search Engine Text :
soap, soap molds, handmade soap, natural soap, hand soap, oatmeal soap, lavender soap, bar soap, best soap, mild soap, exfoliating soap, buy soap, soap shop, body soap, facial soap, milk soap, olive soap, soap products, scented soap, soap making kits, scrub soap, natural scrub soap, natural herbal scrub soap, handmade soap, handmade natural soap, handmade pure soap, natural soap, disinfecting soap, natural handmade soap, best handmade soaps, organic handmade soaps,herbal handmade soap, luxury handmade soaps, organic and natural handmade soap, natural fragrance handmade soaps, Ayurvedic handmade soaps
Natural Divine Ubtan Soap (Pack of 2) - 150 gms