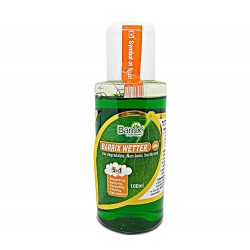 Barrix Wetter is a specially blended non-ionic surfactant with humectant to achieve maximum spray coverage.
ADVANTAGES:
Eco-friendly, Bio-degradable, Non-toxic and Non-ionic multi blend.
Promotes dispersing, spraying, spreading, sticking and penetration of all petrochemicals and micro-nutrients.
BENEFITS:
Promotes spray volume reduction.
Improves spray coverage.
Promotes rapid penetration of plant nutrients.
Uptake of Micro nutrition & fertilizers.
Keeps sprayer clean, lubricates pumps & sprayer nozzles.
DOSE: 1 ML/LIT. OF WATER
BRX Barrix Wetter Organic Plant Nutrition