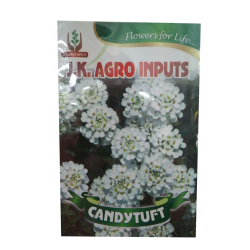 GROWING METHOD OF CANDYTUFT FLOWER:
Candytufts are grown by transplantation method.
In India, seeds are sown from August to November for winter flowering.
Seeds are sown thinly in nursery beds/ seed pans.
Fine sandy soil is required for seedbed (Outdoors), or coco peat is used as sowing medium for seedling trays (Indoors)
Before sowing the seeds, soil should be made slightly moist.
Immediately after sowing the seeds, watering should be done carefully with a watering can.
Seedlings are allowed to grow on seedbeds/trays kept in semi-shade.
After about a month, seedlings are transplanted in pots or flower beds.
Seedlings should be transplanted in high-quality rich soil or potting mixture.
The seeds may be sown directly in permanent sites in November-December. For obtaining continuous blooms, sowing may be done at fortnightly intervals.

Planting Distance: 15-25 cm apart. Plants can be grown in 20 cm pot.

Watering: Daily light watering is needed for first few weeks of seedling growth and potted plants. Outdoor beds can be watered once a week by flood irrigation.

Feeding: Fresh compost should be added to soil at the time of planting. Liquid cow dung manure is given every 15 days along with vermicompost.

Plant care: Spray fungicides on young seedlings to avoid 'damping off.
Bloom time: The plant flowers in 3 months after seed sowing.
Candytuft Flower Seed
Sold: 11561
Brand: J.K. Agro Inputs
Model

Candytuft Flower Seed

Availability:

In Stock
₹70
Price in reward points: 7
Tags: Candytuft Flower Seed