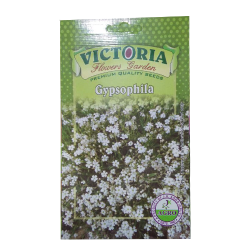 GROWING METHOD OF GYPSOPHILA PLANT:
Gypsophila is grown by direct seed sowing in containers, and flower beds.
Best time to sow seeds is in September-October for winter flowering.
As the plants are short-lived, to obtain a succession of blooms, sowing should be repeated at 2-3 weeks intervals.
The garden soil should be well prepared and formed evenly. Soil should be aerated, porous with good drainage.
Before sowing the seeds, soil should be made slightly moist.
For beds and borders, seeds can be broadcasted directly and evenly on soil, and extra seedlings can be thinned later.
Immediately after sowing the seeds, water carefully with a fine rose-can.
Transplant

the seedlings in pots or flower beds after about a month.
Transplant the seedlings in high-quality rich soil.

Planting Distance: 20-25 cm apart.

Watering: Daily light watering is needed for Gypsophila plants.

Feeding: The soil should have sufficient amount of lime in it.

Plant care: As rabbits are fond of this plant, necessary protection should be given.

Victoria Gypsophila Flower Seed