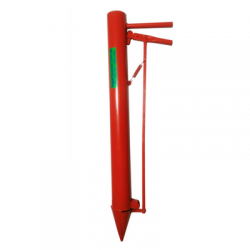 Description
A planter is a semi-automatic device used to sow seeds into wet as well dry soil. The planter does not want the worker to bend down or use hands to remove soil in the farm. It comes in 3 different variants which include cone, double cone, and single cone. It can adjust to the type of soil and type of crop. The planter can plant up to 7 inches of soil.
1 acre of land usually requires 10-12 people to plant 8000 to 10000 seedlings and in mulching, piercing process requires a lot of time and money
With a VGT transplanter, 3-4 people can sow all the seedlings in 1 acre of land within a day. One more important thing is that it can plant approximately 20-25 seedlings within a minute reducing the work of 9 laborers to 1 planter
NOTE: Please note that as the material is heavy, couriers will not accept the material so this material will be sent by transport and the transportation cost will be paid by the buyer.
Cone type Vegetable Transplanter CRC
₹1,750
Price in reward points: 25
Tags: Cone type Vegetable Transplanter CRC