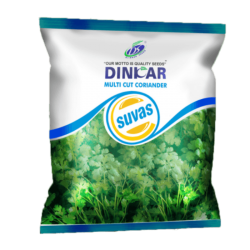 Dinkar Coriander(Dhaniya) Vegetable Seeds Suvas:
Specialities:
Plant color dark green.
Broad leaves.
Heavy branched plant habit.
Round grain shape.
High aroma oil content.
High yield & more market rate of grain.
Sowing Season & Period--Rabi season. October to November.
Sowing Method & Distance--Broad cast and drilling method. 45 cm row to row
Seed rate per hectare--17.5 - 20 kg/hect.
Maturity period in days--110-120 days per hac.
Yield per hectare--18-19 quintals per hectare.
Weight: 1 KG
Dinkar Coriander(Dhaniya) Vegetable Seeds Suvas -1 KG
Sold: 18950
Brand: Dinker Seeds
Model

Dinkar-Suvas Coriander(Dhaniya) Vegetable Seeds

Availability:

In Stock
₹360
Price in reward points: 5
Tags: Dinkar Coriander(Dhaniya) Vegetable Seeds Suvas