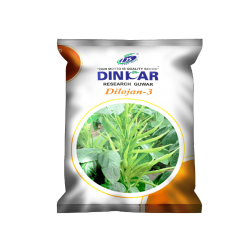 Dinkar GUAR Vegetable Seeds Dilojan-3 :
Specialities:
8-10 cm pod length for marketable size.
Pod nature is glabrous.
Erect plant growth habit.
Attractive green color of pod & shape.
Tolerance to major diseases.
Sowing Season & Period-Kharif & Summer Feb & June to July.
Sowing Method & Distance-Dribbling & drilling. 45-60 cm row to row, 10-15 cm plant to plant.
Seed rate per hectare-7.5-10 kg/hect.
Maturity period in days-110-120 days per hac.
Yield per hectare-5-5.5 tonnes per hectare.
Weight-250 GRM
Dinkar GUAR Vegetable Seeds Dilojan-3 -250 GRM
Sold: 9754
Brand: Dinker Seeds
Model

Dinkar-Dilojan-3 GUAR Vegetable Seeds

Availability:

In Stock
₹360
Price in reward points: 5
Tags: Dinkar GUAR Vegetable Seeds Dilojan-3