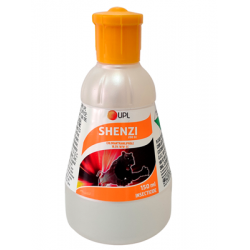 UPL SHENZI ( Chlorantraniliprole 18.5 % w/w)
-Technical Name : Chlorantraniliprole 18.5 % w/w
-Description:
-SHENZI insecticide is an anthranilic diamide Broad Specturm insecticide in the form of a suspension concentrate.
-SHENZI insecticide is particularly active on Lepidopteran insect pests, primarily as a larvicide.
-SHENZI insecticide is powered by active ingredient Rynaxypyr® active which has a unique mode of action that controls pests resistant to other insecticides.
-Mode Of Action : Broad Spectrum Insecticide
-Crop : Tomato, Brinjal, Chilli, Sugarcane, Rice, Soybean, pulses& other Vegetables.
-Targeted Pests: Helicoverpa, Spodoptera, Fall army worm, Cut Worm, Pod borers, DBM, Stem borers.
-Dosage - 0.4 ml/ltr( 60 ml/acre)
UPL SHENZI ( Chlorantraniliprole 18.5 % w/w)
Sold: 14592
Brand: ADAMA
Model

SHENZI

Availability:

In Stock