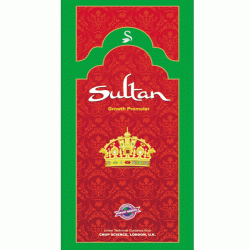 Sultan - Premium Plant growth promoter
We supply 100% pure, natural, organic and herbal agro products, which assist in cultivation and contribute to the growth of crops. These products include herbal Growth Promoter, Plant Growth Promoter flower shedding preventer, cotton pest control, termite remover, mealy bug controller and others. Herbal agro products are extracted from natural herbs in different specifications to suit the varied needs of the cultivators – be it full time farming or its armature gardening. They can also be standardized as per the specific needs. The herbal agro products are obtained from different processes. However, premium quality and high effectiveness is always ensured, which meet or exceed the international quality standards.
The product offer here is 500 ml Pack , delivered to your address .
Use for Agriculture Purpose only

Sultan - Premium Plant growth promoter