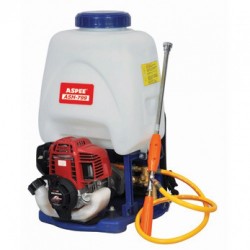 ASPEE ASH/799 sprayer is an ideal partner for spraying costly pesticides.ASPEE ASH/799 sprayer is being preferred by the farmers as the most durable, efficient, & labour saving spraying equipment, which can be use for agriculture purpose. Now the ASPEE ASH/799 sprayer is available.
The sprayer is equipped with positive displacement plunger pump, 20 liter capacity chemical tank, 110 cm. long delivery hose, spray gun, spray lance, 1 set of packing gaskets. The four stroke engine reduced the operating cost approximately half time comparable
NOTE: Please note that as the material is heavy, couriers will not accept the material so this material will be sent by transport and the transportation cost will be paid by the buyer.
Power Sprayer Aspee ASH/799