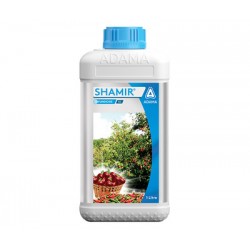 Adama Shamir (Tebuconazole 6.7% + Captan 26.9% w/w SC)
-Content-Tebuconazole 6.7% + Captan 26.9% w/w SC
-Shamir is a Novel fungicide with DUAL mode of action.
-It has both Contact & Systemic action along with Translaminar properties.
-It acts as a MULTI-SITE contact fungicide which inhibits the respiration
-Shamir acts on multiple stages of the fungal growth
-Shamir gives excellent protection against Apple Scab, Chilli Anthracnose & fruit rot.
-Dosage:-
2.5ml/Liter
Adama Shamir (Tebuconazole 6.7% + Captan 26.9% w/w SC)
Sold: 23903
Brand: ADAMA
Model

Shamir

Availability:

In Stock