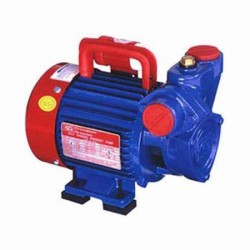 Crompton Greaves Mini Samudra I (1HP)
Mini Samundra is surely a technological marvel With path-breaking features, compact design and advanced technology. Water is required everywhere whether in houses or in fields. The pump is an ideal product to fulfill water requirements as it helps in offering high-pressured water for varied needs. In addition to these, the pump is also strongly built that confirms its reliability as well.
Features
The pump has high-quality and long life mechanical seal. The pump enjoys a compact and contemporary look. It has aluminum pressure die cast motor body. The pump is fitted with Thermal Overload Protector (TOP).
Application
Used for residential dwellings, dairies, hotels, flats, garages, clubs, hospitals and laundries. Gardening and small plants. Used for lawn sprinkling.
Use for Agriculture Purpose only
NOTE: Please note that as the material is heavy, couriers will not accept the material so this material will be sent by transport and the transportation cost will be paid by the buyer.




CROMPTON GREAVES - MINI SAMUDRA I ( 1.0 HP ) Self Priming Pump
Sold: 26937
Brand: Crompton Greaves limited
Model

CROMPTON GREAVES - MINI SAMUDRA I ( 1.0 HP ) Self Priming Pump

Availability:

In Stock
₹4,825
Price in reward points: 50
Tags: CROMPTON GREAVES - MINI SAMUDRA I ( 1.0 HP ) Self Priming Pump