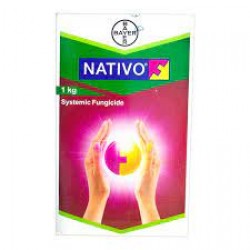 Bayer Nativo Fungicide

Nativo fungicide is a new combination containing Tebuconazole and Trifloxystrobin.
Nativo is a systemic broad-spectrum fungicide with protective curative preventive, curative and eradicative fungicide in water-dispersible granule to control diseases and also improves quality and yield of crop.
In rice, it improves the yield quality by reducing incidence of dirty panicle in later crop stages.
TECHNICAL CONTENT
Tebuconazole + Trifloxystrobin 75 WG(50% +25% w/w)
FEATURES & BENEFITS
Combination of two different modern modes of action - Excellent protective and curative activity due to Tebuconazole& protective action due to Trifloxystrobin
Demonstrates mesostemic action (good penetration & re-distribution)
Gives broad spectrum control on targeted diseases, with flexibility in application time
Excellent resistance management tool
Provides stress tolerance to crops against biotic and abiotic factors
Enhances yield and improves milling quality
MODE OF ACTION
Tebuconazole is demethylase inhibitor (DMI) - interferes in process of building the structure of fungal cell wall. Finally, it inhibits the reproduction and further growth of fungus.
Trifloxystrobin interferes with respiration in plant pathogenic fungi.
Fungicide Resistance Action Committee (FRAC) Classification, No.Tebuconazole 3; Trifloxystrobin 1
Bayer Nativo Fungicide