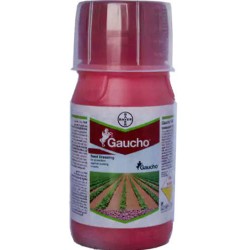 Chemical composition: Imidacloprid 600 FS (48% w/w)
Dosage: 1-12 ml/1 kg
Method of application: Mix with seed (Seedtreatment)
Spectrum: Soybean,Cotton,Okra,Sunflower:Aphid, Whitefly, Jassid, Thrip;Sorghum:Shoot Fly;Pearl Millet:Termite and Shoot Fly
Compatibility: Solitary
Frequency of application: Depends on pest incidence or severity of disease.
Applicable crops: Cotton,Okra,Sunflower,Sorghum,Pearl Millet,Soybean
Extra description: It gives protection to crop from sucking pests for initial 30- 40 days the sprays are not required which helps in augmentation of natural enemies.economical due to longer duration of pest control
Special Remark: The information offered here is for reference only and depends exclusively on soil type and climatic conditions. Always refer to product labels and accompanying leaflets for complete product details and directions for use.
Bayer Gaucho (Imidacloprid 600 FS 48%)