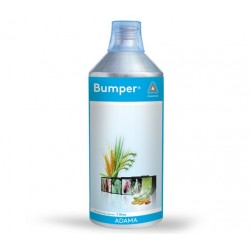 Bumper is a systemic foliar fungicide which belings to triazole group.
TECHNICAL CONTENT
Propiconazole 25% EC
FEATURES & BENEFITS
Bumper is a fungicide with protection & curation action with translocation acropetally in the xylem.
BENEFITS
Bumper has broad specturum activity against a wide range of fungal diseases casued by basidiomycetes, ascmycetes & deutromycetes fungi.
Bumper is of low mammalian toxicity and does not affect honeybees, beneficial insects or wildlife.
Adama Bumper- PROPICONAZOLE 25% EC - Fungicide
Sold: 10323
Brand: ADAMA
Model

Bumper

Availability:

In Stock