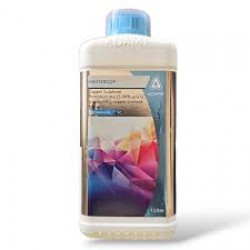 Adama Mastercop Fungicide ( Copper Sulphate Pentahydrate 23.99% w/v SC )
General Info:
BioRetain- Allows penetration into plant cuticle for improved performance per pound of AI.

High copper bioavailability results in increased adhesion, cuticle penetration, and rain fastness, which increases efficacy with minimal phytotoxicity.

Instant release of copper ions for faster activity on pathogens present on the leaves.

Less metallic copper is applied, reducing soil loading, this fits well with EPA-reduced metallic copper rates per acre.

Easy-to-handle true liquid solution no settling, no clogging, no nozzle wear.

No blue residue on your crop.
Key Targets:
Anthracnose, Bacterial Blast, Brown Rot Blossom, Brown Spot, Cercospora Leaf Spot, Downy Mildew, Early Blight, Gray Mold, Late Blight, Leaf Spot, Phomopsis, Powdery Mildew, Rusts, Scab, Stem Blight.
Crops:
Citrus, Fruiting Vegetables, Pome Fruit, Potatoes, Stone Fruit, Tree Nuts, Tuber Vegetables.
Recommendation:
Use 400 ml per acre
Adama Mastercop Fungicide ( Copper Sulphate Pentahydrate 23.99% w/v SC )
Sold: 1505
Brand: ADAMA
Model

Mastercop

Availability:

In Stock