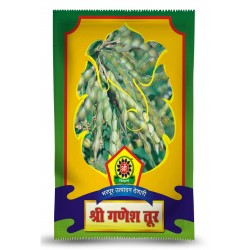 Shree Ganesh Tur ( Pigeon Pea /Red Gram / Arhar) Seeds
Packing 1 Kg packet
Crop : Pigeon Pea ( Red Gram / Arhar )
Duration of crop : 170-180 days
Suitable for Kharif as sole cropping as well as pre rabi season .
i. Highly resistant to sterility mosaic, wilt (fusarium udum) and powdery mildew diseases.;
ii. Also resistant fusarium udum wilt disease races.
One of the highest yielding variety of Red gram .
The product offer here is 1 Kg Pack , delivered to your address .
Use for Agriculture Purpose only
Shree Ganesh Tur Seeds - Pigeon Pea /Red Gram / Arhar