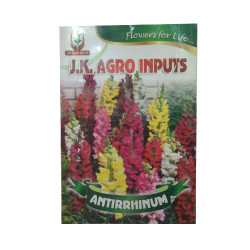 GROWING METHOD OF ANTIRRHINUM PLANT:
In India, seeds are sown during September-October. In low rainfall areas, sowing can be done as early as July.
Seeds are sown thinly in nursery beds/ seed pans.
The fine sandy soil is required for seedbed (Outdoors) is used as sowing medium for seedling trays (Indoors).
If sowing is to be done in bulk quantity, the seeds can be mixed with a double amount of sand.
Before sowing the seeds, soil/coco peat should be made slightly moist.
Immediately after sowing the seeds, watering should be done carefully with a fine rose-can.
Seedlings are allowed to grow on seedbeds/trays kept in semi-shade.
When seedlings are about 7-8 cm tall, they are transplanted in pots.
Seedlings should be transplanted in high-quality rich soil or potting mixture.


Planting Distance: Planting in beds is done 30-40 cm apart. For pot culture, plants are grown in 25 cm pots.

Watering: Over-Watering should be avoided as this may cause rotting. The plant does not thrive well during the rains as a certain amount of dryness around the root region is preferred by the plant.

Feeding: Over-manuring may result in poor quality flowers. Fresh compost should be added to soil at the time of planting.

Plant care: Seedlings are susceptible to 'damping off'. Also, Rust is a serious disease in Antirrhinum, particularly in hot and dry climates. Spray fungicides to control the diseases.

Bloom time: Plants take about 2.5 to 4 months to flower.
Antirrhinum Flower Seed
Sold: 12101
Brand: J.K. Agro Inputs
Model

Antirrhinum Flower Seed

Availability:

In Stock
₹70
Price in reward points: 7
Tags: Antirrhinum Flower Seed