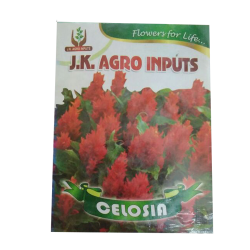 GROWING METHOD OF CELOSIA PLANT:
Celosia is grown by direct seed sowing in pots, containers, and flower beds.
Seeds can be sown in January and February for flowering in summer months and during May - June .
The garden soil should be well prepared and formed evenly. Soil should be aerated, porous with good drainage.
Before sowing the seeds, soil should be made slightly moist.
While sowing, the seeds should be mixed with an equal quantity of sand to obtain uniformity.
For beds and borders, seeds can be broadcasted directly and evenly on soil, and extra seedlings can be thinned later.
Immediately after sowing the seeds, watering should be done carefully with a fine rose-can.
If grown by transplantation method, seedlings should be transplanted when very small (2.5-3 cm) to avoid shock.

Planting Distance: 20-30 cm between two plants. Plant can be grown in 25 cm pot.

Watering: Plants require plenty of frequent watering.

Feeding: Celosia responds well to the application of liquid NPK manure.

Plant care: Rust and rot can be quite serious in Celosia. Affected plants remain stunted and do not flower properly. Spray fungicides like Uthane and Saaf to control infection.

Bloom time: Flowering takes place in about 3 months after seed sowing.
Celosia Flower Seed