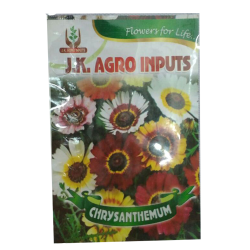 GROWING METHOD OF CHRYSANTHEMUM:
Chrysanthemum is easy to grow by seed sowing method. Seeds can be sown directly in flower beds or pots, but for better results plant should be grown by transplantation method.
In areas with a cold climate and scanty rainfall, sowing is done during June-July For winter flowering, the seed is sown during September-October.
Seeds are sown thinly in nursery beds/ seed pans.
Fine sandy soil is required for seedbed (Outdoors) is used as sowing medium for seedling trays (Indoors)
Before sowing the seeds, soil/coco peat should be made slightly moist.
Immediately after sowing the seeds, water with a fine rose-can.
Allow seedlings to grow on seedbeds/trays and keep them in semi-shade.
Transplant seedlings in pots or flower beds after 25-30 days.
Seedlings should be transplanted in high-quality rich soil .

Planting Distance: 45-50 cm apart in flower beds. For pot culture, grow plants in 25 cm pots.

Watering: Over watering is very harmful. Water Chrysanthemum plant on alternate days during summer.

Feeding: Chrysanthemum is a heavy feeder. Add leaf mold, farmyard manure and bonemeal in potting soil. Liquid fertilizer is prepared by fermenting cow dung and oil cake, which is provided to plant every 15 days. NPK fertilizers can be added in this liquid manure.

Plant care: Soil fumigation by methyl bromide chloropicrin is very useful in controlling soil borne fungi and nematodes. The severity of leaf and floral diseases can be removing infected plant parts from the garden and destroying them. If you do not water the plants in late afternoon and night, the diseases can be reduced to a considerable extent.

Bloom time: The plant flowers in about 3 to 3.5 months.

Staking: Plant needs the support of bamboo stakes in the flowering stage. Small, erect stakes can be inserted in pot soil when flowering buds are formed.

Stopping (Pinching): When plants are 8-10 cm tall, remove the tip of the main stem. This will create multiple lateral stems and many flowers. For obtaining single bloom per plant, do not pinch/remove the tip of the main stem.
Chrysanthemum Flower Seed