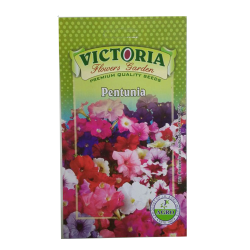 GROWING METHOD OF PETUNIA MIX:
Petunia is grown by direct seed sowing in pots, containers, and flower beds.
Seeds can be sown in August to November.
The garden soil should be well prepared and formed evenly. Soil should be aerated, porous with good drainage.
Before sowing the seeds, soil should be made slightly moist.
While sowing, the seeds should be mixed with an equal quantity of sand to obtain uniformity.
For beds and borders, seeds can be broadcasted directly and evenly on soil, and extra seedlings can be thinned later.
Immediately after sowing the seeds, water carefully with a fine rose-can.

Planting Distance: A spacing of 25-30 cm is allowed each way. For pot culture, 15-25 cm pots are suitable.

Watering: Petunias need plenty of watering, at least twice a week in winters. While water, splashing water on the leaves should be avoided.

Feeding: Petunias grow well in very rich soil. (Too rich for other flowers). Add plenty of compost at the time of planting. An occasional fortnightly feeding with liquid manure is helpful.

Plant care: Petunia is affected by foot rot, which causes blackening of the lower part stems and roots. The diseased plants should be uprooted and burnt. Seedlings should be raised in soil sterilized with antifungals to avoid damage.

Bloom time: Petunias flower in 3 to 3.5 months after seed sowing.

Deadheading: The faded flowers should be removed time to time to prolong the blooming period.

Pruning: When the flowering is almost complete, the plants are cut back to small size. These cut plants will throw new growth which in turn will flower again.

Stacking: For long-struggling plants, 3-4 slender bamboo stakes, painted green, are inserted along the periphery of the pots, and jute threads (Sutli) are tied around them to help the plants get support.

Victoria Petunia Flower Seed