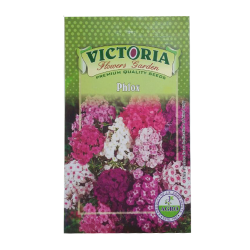 GROWING METHOD OF PHLOX FLOWER:
Phlox is grown by transplantation method.
Seeds are sown between August-November. In a mild climate like Bangalore, sowing can be started from June-July.
Seeds are sown thinly in nursery beds/ seed pans.
Fine sandy soil is required for seedbed (Outdoors) is used as sowing medium for seedling trays (Indoors)
Before sowing the seeds, soil/coco peat should be made slightly moist.
Immediately after sowing the seeds, watering should be done carefully with a fine rose-can.
Seedlings are allowed to grow on seedbeds/trays kept in semi-shade.
After about a month, seedlings are transplanted in pots or flower beds.
Seedlings should be transplanted in the high-quality rich soil.
Seeds can be sown directly in permanent flower beds also, and this results in early flowering.

Planting Distance: The seedlings are transplanted 15-30 cm apart. For pot culture, 25 cm pots are used, and about five seedlings can be grown per pot.

Watering: Water twice or thrice a week to keep the soil moist.

Feeding: Phlox grows well in calcareous loamy soil, rich in humus.

Plant care: Powdery mildew affects the foliage and tender branches, first appearing as greyish white spots and then spread rapidly. Spray fungicides to control the disease.

Bloom time: The plant's flower bloom after 3-3.5 months after sowing.

Pinching: Tips of young seedlings are pinched off to avoid bushy growth and early flowering.

Victoria Phlox Flower Seed