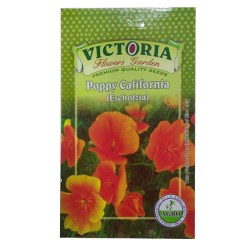 GROWING METHOD OF POPPY FLOWER:
Poppy is raised by direct seed sowing in containers, and flower beds.
Seeds are sown in September to November for winter flowering.
The garden soil should be well prepared and formed evenly. Soil should be aerated, porous with good drainage.
Before sowing the seeds, soil should be made slightly moist.
For beds and borders, seeds can be broadcasted directly and evenly on soil, and extra seedlings can be thinned later.
Immediately after sowing the seeds, water carefully with a fine rose-can.

Planting Distance: Seedlings are thinned out 25-30 cm apart.

Watering: Outdoor beds can be watered once a week by flood irrigation.

Feeding: Fresh compost should be added to soil at the time of planting is given every 15 days along with vermicompost.

Plant care: Poppies are very hardy plants, and can even withstand severe frost.

Bloom time: Poppies take about 2.5 to 3 months to bloom after sowing. The flowers do not last long in the field as petals are easily blown off.

Victoria Poppy California Flower Seed