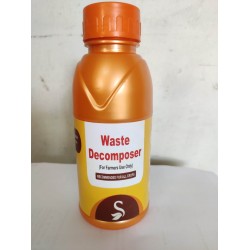 Waste Decomposer :
Waste Decomposer is a revolutionary product which can decompose the bio gradable waste quickly ,Waste Decomposer decomposes bio-degradable waste into a helpful compost for plant organism . Unproductive Soil, soil borne pests, unsatisfactory fruit quality etc , all these problems can be solved by using natural Organic bio degradable waste prepared from Waste Decomposer .
Regular use of Waste decomposer is recommended .
It can be used in many ways , for quick composting of Bio-waste , for soil application in farms to increase the helpful micro-organisms , through drip irrigation in farms , also can be applied as foliar sprays .
Waste decomposer works as Bio fertilizer, Bio control and as well as Soil Health Promoter(Conditioner)
Please note that , this is made from advance technology, to increase and maintain the count for longer duration, Liquid based carrier is used, so the product is in liquid form
How to Use :
1: Take 100ml of Waste Decomposer and mix it well in 200 L of water and 2 kg Jagger. Stir it regularly , Keep the solution for a week.
2: After a week use the solution to spray at your farms/water your land.
The Packet Contains pack of 1 bottle of 500 ml ,
Waste Decomposer Advanced Technology