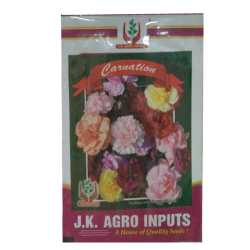 Growing Carnations
Carnations grow readily from cuttings made from the suckers that form around the base of the stem, the side shoots of the flowering stem, or the main shoots before they show flower-buds.
The cuttings from the base make the best plants in most cases.
These cuttings may be taken from a plant at any time through fall or winter, rooted in sand and potted up.
They may be put in pots until the planting out time in spring, which is usually in April or in any time when the ground is ready to be handled.
The soil should be deep, friable and sandy loam.
Carnation Flower Seeds
Sold: 8952
Brand: J.K. Agro Inputs
Model

Carnation Flower Seeds

Availability:

In Stock
₹70
Price in reward points: 7
Tags: Carnation Flower Seeds