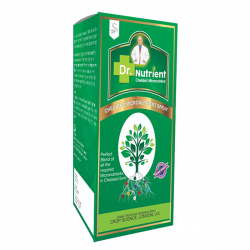 About this item
Liquid Chelated Micronutrient Ferilizer for your Plants (Agriculture, Gardening, Horticulture, Landscaping, Green Houses and Plant Nurseries).

Composition (Refer Product Image): Zinc (Chelated), Manganese (Chelated), Boron (in complex form - not chelated), Iron (Chelated).

Directions for use: Foliar Spray Dosage 2 to 3 times during the crop cycle. Dissolve 1ml of Growmin Gold in 1 litre of water.

Dose per acre by spray - 200ml in 200litres of water. Dose per acre by drip - 400-450ml.

Increase the dose as per requirement of the crop and micronutrient deficiencies.
Dr Nutrient (Cheleted Liquid Micronutrient)
Sold: 176
Model

Dr Nutrient (Cheleted Liquid Micronutrient)

Availability:

In Stock