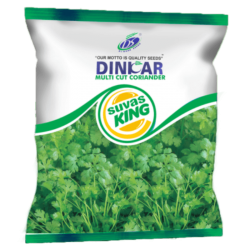 Dinkar Coriander(Dhaniya) Vegetable Seeds Suvas King:
Specialities:
Wide range adaptability.
Shiny leaf, dark colored leaf.
Pigmentation is absent at cutting.
Fast growth habit.
First cut - 30-35 days
3-4 harvest during crop duration.
Low bolting habit.
Good aroma for cooking.
Sowing Season & Period--Kharif, Rabi & Summer. June to Jult, Oct. to Nov. & Jan to Feb
Sowing Method & Distance--Broad cast and drilling method. 30-45 cm row to row
Seed rate per hectar--20 - 25 kg/hect.
Maturity period in days--Vegetable purpose --> goti.
Yield per hectare--13-18 tonnes green leaf per hectare.
Weight: 1 KG
Dinkar Coriander(Dhaniya) Vegetable Seeds Suvas King -1 KG
Sold: 13447
Brand: Dinker Seeds
Model

Dinkar-Suvas King Coriander(Dhaniya) Vegetable Seeds

Availability:

In Stock
₹550
Price in reward points: 5
Tags: Dinkar Coriander(Dhaniya) Vegetable Seeds Suvas King