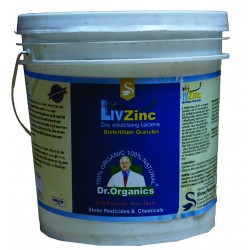 Zinc Solubilizing Bacteria
CFU 1 x 108 per ml
Improve Soil &
Plant Health
Mode of action:
Liv Zinc produces organic acids and converts insoluble form of zinc available in nature e.g. zinc oxide and zinc carbonate and make it available to the plants through lowering the soil pH and breaking down the complexity and thereby increases the crop yield and soil health.
Benefits:
Increases crops yield and quality of produce.
Improves the soil health and activates hormones.
Improves the photosynthetic activity leading to higher plant growth.
CROPS: CROPS GROWN BETWEEN PH 5 TO
LivZinc Granules Bucket
Sold: 30287
Model

LivZinc Granules Bucket

Availability:

In Stock
₹450
Price in reward points: 10