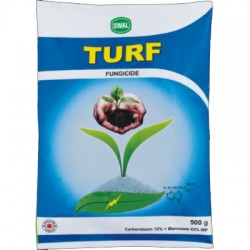 Swal Turf - Carbendazim 12% + Mancozeb 63% WP - Fungicide
Important properties:
Chemical composition: Carbendazim 12% + Mancozeb 63% WP
Dosage: Spraying: Groundnut: 200 g / acre, Rice @ 300 g / acre, Potato @ 700 g / acre, Tea @ 500 g / acre, Chilli @ 300 g / acre, Maize @ 400 g / acre. Seed treatment: Groundnut: 2.5 g / kg Seed Mango and grapes: 1.5 g / liter
Method of use: Spray
Scope: Pepper: Fruit Cucumber, Leaf Spot, Brown Grapes: Anthracnose, Kevada, Brown Peanut: Blast Collar Rot Dry Rot, Leaf Spot, Root Crumb, Tikka Mango: Anthracnose, Brown Rice: Karpa Potato: Black Scarf, Black Scarf Incoming tax,
Compatibility: Can be used with all chemicals
Duration of effect: 7 days
Frequency of reuse: Depending on the incidence or severity of the disease
Applied to crops: Groundnut, Rice, Potato, Tea, Grape, Mango
Additional description (more information): Many diseases are controlled
Special Comments: The information provided here is for reference only. To know and use the product information, look carefully at the label and the full product details and directions given in the leaflet!
Swal Turf - Carbendazim 12% + Mancozeb 63% WP - Fungicide
Sold: 8493
Model

Swal Turf

Availability:

In Stock