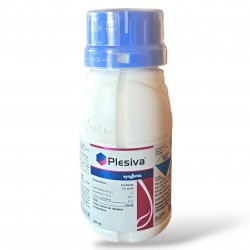 Syngenta Plesiva Insecticide (Cyantraniliprole 7.3% w/w + Diafenthiuron 36.4% w/w SC)
ABOUT PRODUCT
Cyantraniliprole is a novel anthranilic diamide insecticide effective against a cross specturm of chewing and sucking pests.it is systemic insceticide. Diafenthiuron is a non systemic insecticide, which kills larvae, nmphs and adults by contact action.
Click Here For More Crop Protection Products
TECHNICAL CONTENT
7.3% w/w Cyantraniliprole+36.4% w/w SC Diafenthiuron
FEATURES & BENEFITS
USAGE
MODE OF ACTION
It displays translaminar activity, which means pests located underside of leaves are controlled even if they are not directly hit by spray.
Syngenta Plesiva Insecticide (Cyantraniliprole 7.3% w/w + Diafenthiuron 36.4% w/w SC)
Sold: 64
Model

Plesiva

Availability:

In Stock