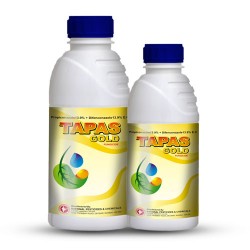 Tapas Gold- Propiconazole 13.9% w/w + Difenoconazole 13.9% w Fungicide
Tapas Gold in rice applied for timely protection at early (25-30 DAT) veg stage results into more productive tillers.More ability to fight disease leading to better disease Management and healthy Flag Leaf hence better yield.It gives healthy & productive tillers, setting maximum yield potential.
It also helps in better disease management.
Diseases controlled: Sheath Blight, Dirty Panicle Disease, Powdery Mildew, Downy Mildew, Antracnose, Die back, Leaf spots & Blights in crops like wheat, Paddy and Most of the vegetables.
Precaution: 1. Keep away from foodstuffs, empty foodstuff containers and animals food. 2. Avoid contact with mouth, eyes and skin. 3. Avoid inhalation the dust particles. Apply in the direction of wind. 4. Wash thoroughly the contaminated clothes and parts of the body after dusting.
5. Do not smoke, drink, eat and chew anything while dusting. 6. Wear full protective clothing while dusting.
Symptoms Of Poisoning: Headache, giddiness, vertigo, Nausea, Vomiting, Blurred vision, Diarrhoea, Convulsions, Sweating, excessive, lacrimation and salivation may occuronvulsions, Sweating, excessive, lacrimation and salivation may occur
First Aid: IN CASE OF POISONING, contact a physician immediately. Take container, label or product name with you when seeking medical attention.IF SWALLOWED, Have person sip a glass of water if able to swallow. Do not induce vomiting . Do not give anything by mouth to an unconscious person.IF ON SKIN OR CLOTHING, take off contaminated clothing. Rinse skin immediately with plenty of water for 15–20 minutes.
IF IN EYES, hold eye open and rinse slowly and gently with water for 15–20 minutes. IF INHALED, move person to fresh air. If person is not breathing, then give artificial respiration, preferably by mouth-to-mouth, if possible. Antidote : No specific antidote is known. Treat symptomatically.
CHEMICAL COMPOSITION
Propiconazole (a.i) : 13.9 % w/w
Difenoconazole (a.i) : 13.9% w/w
Dodecyl Benzense Sulfonic
Acid Calcium Salt : 4.6% w/w
Castor Oil Polyglycol ether 36-37 : 6.5% w/w
Oeyl Poly Glycolether 10 mole EO : 3.7% w/w
Mixture of aromatic hydrocarbons
(Solvesso 200ND) : Q.S
Total : 100.00% w/w
Tapas Gold- Propiconazole 13.9% w/w + Difenoconazole 13.9% w Fungicide
Sold: 5613
Model

Tapas Gold

Availability:

In Stock