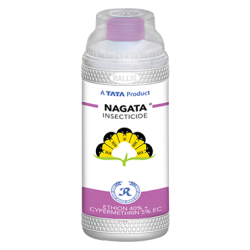 Tata Nagata Insecticide (Ethion 40% + Cypermethrin 5% EC)
Chemical Composition: Ehion 40% + Cypermethrin 5% Ec
Tata Nagata Is A Broad-Spectrum Insecticide That Is Used To Control A Wide Range Of Pests In Crops Such As Cotton, Rice, Maize, Vegetables, And Fruit Trees. It Is A Combination Of Two Active Ingredients: Ehion (Ethofenprox) 40% And Cypermethrin 5%.
Ethon Is A Synthetic Pyrethroid Insecticide That Works By Targeting The Nervous System Of Insects, Causing Paralysis And Death. It Is Effective Against A Variety Of Pests, Including Aphids, Whiteflies, And Thrips.
Cypermethrin Is Also A Synthetic Pyrethroid Insecticide That Works In A Similar Way To Ethon. It Is Effective Against A Wider Range Of Pests, Including Caterpillars, Beetles, And Mites.
Together, Ehion 40% + Cypermethrin 5% Ec Provides Excellent Control Of Pests While Minimizing Harm To Non-Target Organisms And The Environment. When Applied As Directed, It Can Provide Rapid Knockdown And Long-Lasting Control Of Pests.
However, It Is Important To Follow All Safety Precautions When Handling And Applying This Product, As It Can Be Toxic To Humans And Animals If Not Used Correctly. Always Read And Follow The Product Label Instructions Carefully Before Use.
Tata Nagata Insecticide (Ethion 40% + Cypermethrin 5% EC)
Sold: 1062
Model

Nagata

Availability:

In Stock