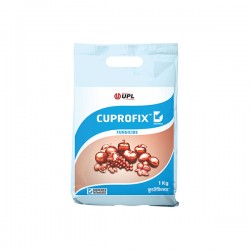 UPL Cuprofix (Copper Sulphate 47.15% + Mancozeb 30% WDG) Fungicide
-Cuprofix is ​​an effective protective fungicide and bactericide that controls a wide range of fungal and bacterial diseases occurring on a wide range of crops.
-Cuprofix is ​​a unique combination fungicide that contains Mancozeb and Copper Sulphate in wettable granule formulation.
-Cuprofix is ​​a contact fungicide that controls almost all economically important fungal and bacterial diseases on a wide range of crops when protective sprays are used.
-Cuprofix's multisite activity provides effective control of fungal and bacterial disease and is particularly suitable for resistance management programs for downy mildew and late blight disease.
-Cuprofix is ​​one of the safest copper based fungicide/bactericide available in India today.
-Dosage: 600 gm/acre
UPL Cuprofix (Copper Sulphate 47.15% + Mancozeb 30% WDG) Fungicide
Sold: 35567
Model

Cuprofix

Availability:

In Stock