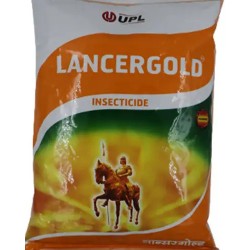 UPL LANCERGOLD (Acephate 500 + Imidacloprid 18 % SP)
-Chemical composition: Acephate 50 % + Imidaclopride 1.8 % SP
-Dosage: 400 g/acre
-Method of application: Foliar spray
-Spectrum: Cotton-Aphid; Jassid; Thrips; Whiteflies; Bollworms,Paddy:Brown Plant Hopper, Green Leaf Hopper, Stem borer & Leaf folder
-Compatibility: Compatible with most chemicals
-Duration of effect: 10 days
-Frequency of application: Depends on pest incidence or severity of disease. Click on 'Need Expert Help' button for more information.
-Applicable crops: Cotton,Paddy
-Extra description: Systemic mode of action
-Special Remark: The information provided here is for reference only. Always refer to the product labels and accompanying leaflets for complete product details and directions for use.
UPL LANCERGOLD (Acephate 500 + Imidacloprid 18 % SP)
Sold: 21645
Model

LANCERGOLD

Availability:

In Stock