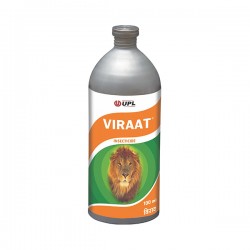 Upl Viraat-Cypermethrin 3% + Quinalphos 20% EC
CYPERMETHRIN 3% + QUINALPHOS 20% EC
Important properties:
-Chemical Composition: Cypermethrin 3% +Quinolphos 20% EC
-Quantity: Wangi: 140-160 ml/acre
Kapus: 400-500 ml/acre
Business Method: Favarani
-Effectiveness: Vangi: F. Pokharnari Ai, Shoot borer; Cotton: American Bondi, Thuday
- Compatibility: Multiple chemical compatibility
-Renewal on Karanyachi Waranvarita: Kidincha emergence but disease rapid support aste
-Picana Applicable: Vangi, Kapus
-Additional description (More information): O insecticide use Wangyamdhil Shende and Phar Pokharnari Ati Tsech Kapashimadhil Tudtude and Bondachiya Controlnasathi Ho.
-Special note: Yethe dileli mahiti fakt contexthasathi ahe ahe. Productivity information, Janoon Ghenyasathi and Vaparnyasathi tyavar lavalele label and paperwork Dilelya production, with complete tenacity and direction, looked intently!
Upl Viraat-Cypermethrin 3% + Quinalphos 20% EC
Sold: 9260
Model

Viraat

Availability:

In Stock