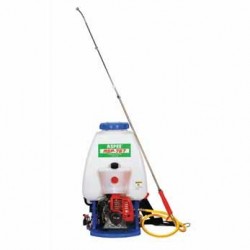 Suitable for row & ground crops like cotton, soyabean, vegetables, tea & coffee plantations, orchards & tall trees.
High density polyethylene tank 25 lit. capacity with clean out port, adjustable shoulder straps with cushion, 110 cm. long high pressure delivery hose, choice of spray gun. forced air cooled 25.6 cc petrol engine with reciprocating type metal pump & gear box.
Model: UB/001BTU 26
Engine type: 2–Stroke, forced air cooled petrol engine
Displacement: 25.6 cc
Carburetor: Diaphragm-type (overflow return)
Ignition system: Transistorized magneto
Starting system: Recoil starter
Air cleaner: Semi-dry
Fuel tank capacity: 500 ml
Chemical tank capacity: 25 ltr ± 5 %
Pump type: Positive displacement reciprocating pump (single piston double acting)
Suction /discharge capacity at no load: 10 to 11 ltr/min
Normal working pressure: 100 – 200 PSI
Maximum pressure: 400 PSI
Weight: 10 kg (approx)
Krushikendra Tag : High Pressure Knapsack Sprayer ,sprayers ,Agro sprayers, Aspee sprayers , Knapsack sprayers, agriculture sprayers
NOTE: Please note that as the material is heavy, couriers will not accept the material so this material will be sent by transport and the transportation cost will be paid by the buyer.

ASPEE ASP 767 High Pressure Agro Sprayer
Sold: 33140
Brand: ASPEE
Model

UB001B/TU-26

Availability:

In Stock
₹8,900
Price in reward points: 50
Tags: sprayers, Agro sprayers, Aspee sprayers, Knapsack sprayers, agriculture sprayers