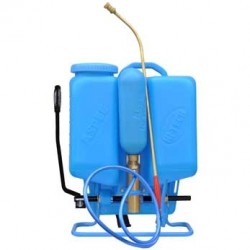 Suitable for spraying on field crops and plantations
16 lit. capacity high density polyethylene tank with frame directly moulded to tank, pressure chamber and pump fitted outside the tank with 2 nos. adjustable shoulder straps without cushions complete with 110 cm long delivery hose and spray lance VMND consisting of trigger cut off, 60 cm long extension rod one end bent as gooseneck and duro mist spray nozzle with stainless steel disc and 1 set of packing gaskets, conforming to IS specification and with ISI mark.
Model: DR 200
Tank: H.D.P.E.
Tank Capacity: 16 Ltr.
Pressure Vessel: H.D.P.E.
Spray Lance/Lance Pipe: Brass Pipe with Trigger Cut Off As per customers requirement
L x W x H (in mm): 370 x 150 x 510
Weight: 4.5 kg (approx)
Krushikendra Tag : sprayers, Agro sprayers , Agriculture sprayers , petrol sprayers, aspee sprayers
ASPEE DuroTekk HI-TECH Agro Sprayers(DR 200)
Sold: 22640
Brand: ASPEE
Model

DR 200

Availability:

In Stock
₹3,200
Price in reward points: 25
Tags: sprayers, Agro sprayers, Agriculture sprayers, petrol sprayers, aspee sprayers