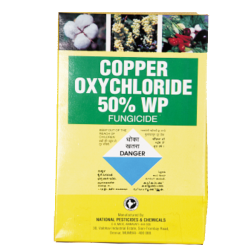 Copper OxyChloride 50 %WP : Fungicide
This is a quality fungicide and can be used in any crops
COPPER OXYCHLORIDE 50% WP is protective wettable fungicide having double effect of systematic, contact and preventive action. Copper can be used on numerous crops against fungal and bacterial diseases. It can serve as a fatal enemy of major obstinate disease in growing period of the crop. Its active molecule penetrate with high performance. It can enter the in vivo of the plant rapidly, and expand omnibearingly to the ailing plant, sterilizing inside and outside. It is used as fungicide to control Scab, Anthracnose, Anthracnose, Downy mildew, Early blight, and Late blight diseases of various crops , vegetables, Potato, Tomato, Tea, Coconuts, spices, and Tobacco , fruits, Grapes, Banana, nuts, and commercial sod farms. It should be used in accordance with climatic conditions and approval by local authorities.
COPPER OXYCHLORIDE 50% WP is a copper based broad spectrum fungicide which controls the fungal as well as bacterial diseases . It also effectively controls the fungus resistant to other fungicides. Due to its fine particles, it sticks to the leaves and helps to restrict the growth of the fungus.
COPPER OXYCHLORIDE 50% WP due to less solubility, gradually releases copper ions, thereby it controls the disease for a longer period.
The product offer here is 500 gms Pack , delivered to your address .
Use for Agriculture Purpose only

Copper OxyChloride 50 WP Fungicides
Sold: 97937
Model

Copper OxyChloride 5-%WP

Availability:

In Stock
₹425
Price in reward points: 5
Tags: Micronutrients, Copper OxyChloride 5-%WP