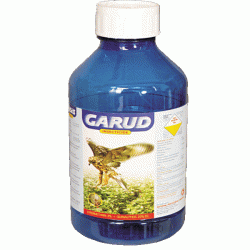 Garud-Quinalphos 20%+Cyper3% : Insecticides
We are engaged in offering excellent quality Garud Insecticide to our valuable clients.

NOMENCLATURE
Common name quinalphos (BSI, E-ISO, (m) F-ISO); chinalphos ((m) France)
IUPAC name O,O-diethyl O-quinoxalin-2-yl phosphorothioate
Chemical Abstracts name O,O-diethyl O-2-quinoxalinyl phosphorothioate
CAS RN [13593-03-8] EEC no. 237-031-6 Development codes Bay 77 049 (Bayer); SAN 6538; SAN 6626 (both Sandoz) Official codes ENT 27 394

PHYSICAL CHEMISTRY
Mol. wt. 298.3 M.f. C12H15N2O3PS Form Colourless crystals. M.p. 31-32 ºC B.p. 142 ºC/0.0003 mmHg (decomp.) V.p. 0.346 mPa (20 ºC) KOW logP = 4.44 (23 ºC, 10-100 ppm level) S.g./density 1.235 (20 ºC) Solubility In water 17.8 mg/l (22-23 ºC). In hexane 250 g/l (23 ºC). Readily soluble in toluene, xylene, diethyl ether, ethyl acetate, acetone, acetonitrile, methanol, ethanol. Slightly soluble in petroleum ether (23 °C). Stability A.i. stable 14 d at room temperature; liquid tech. grade less stable but stable under ambient storage conditions, when diluted in non-polar organic solvents and in the presence of stabilising agents. Formulations are stable (shelf life at ave. ann. temp. £25 ºC c. 2 y). Susceptible to hydrolysis; DT50 (25 ºC, 17 ppm and 2.5 ppm) 23 d (pH 3), 39 d (pH 6), 26 d (pH 9).
The product offer here is 500 ml Pack , delivered to your address .
Use for Agriculture Purpose only



Garud-Quinalphos 20%+Cyper5% Insecticide