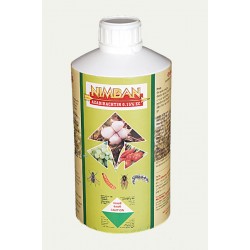 Neemban is an azadirachtin insecticide (0.15%) , with azardarictin contents as 1500 ppm ,  formulated to provide broad spectrum insect control with very low environmental impact. NON-TOXIC to honeybees and many other beneficial insects. OMRI Listed for use in organic production.




A popular botanical insecticide/ miticide with multiple modes of action, Azatrol acts as an anti-feedant, insect growth regulator and as a repellent and ovipositioning deterrent.




Anti-Feedant: Insects will feed less or not at all on treated plant tissue. Foliage is NOT damaged and insects ultimately starve to death.
NEEM 1500 PPM ( Azadirachtin 0.15% EC )
Sold: 32495
Model

NEEM_1500_PPM_ Azadirachtin_0.1_EC

Availability:

In Stock
₹380
Price in reward points: 7
Tags: NEEM 1500 PPM ( Azadirachtin 0.15% EC )