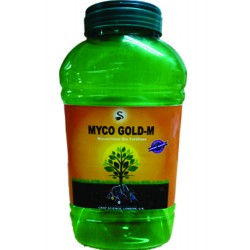 Mode of action:
MycoGold-M accumulates phosphate through its vesicle and arbuscules and can travel far from the plant root in search of phosphate resources.It prenetrates into the plant root cell, producing balloon like vesicles.
Management of MycoGold-M fungi enhances phosphote uptake and mobilize immoble micronutrient like Fe, Mn, Zn, Cu, and Bo, Mo.Besides these , it imparts resistance to plant against drought , soil borne fungal pathogens and nematodes.
Benefits:
Improves plant root growth and development.
Increases mobilization and uptake of phosphate ande minerals.
Effective in overcoming the stress condition like drought, cold and disease incidence.
Dosage:
1st dose as Basal at sowing or planting 2nd dose 30/40days after Sowing or planting & repeat after every 30 days
Crops:
Suitable for all types of crops like:
OIL SEEDS,PULSES,CEREALS,FRUITS
VEGETABLES,FIBER CROPS.
MycoGold-M