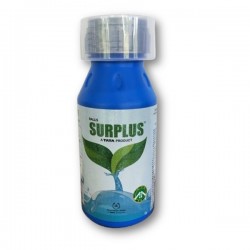 Rallis Surplus-Plant Growth Prometer.
-contains Balanced Micronutrients For Good Growth And High Yield Of All Crops Grown In All Solls , Contains Balanced Micronutrients : Engineered Nano Particle For Goods Grown And High Yield Of Cereals( Bajra, Wheat, Maize, Sorghum, Bariey,paddy) Pulses (Tur, Gram Etc )oilseeds Groundnut, Seasame, Mustard, Sunflower, Soyabeen, Safflower,etc, Vegatables) Onion,brinjaj,potato,chillies,tomato,okra,etc)cotton.sugarcame,fruit,crops,(Grapes,citrus,pomegranate,banana,etc)
Spray Solution Concentration:mix 2 Ml Of Rallis Surplus In One Litre Of Water And Spray On The Crops .
Number Of Sprays :2-3 Sprays During Peak Growth Periods .
First Spray :-cereals Pulses, Oilseeds, Vegetables - 4-6 Weeks After Sowing / Transplanting
Rallis Surplus-Plant Growth Prometer
Sold: 6225
Model

Surplus

Availability:

In Stock